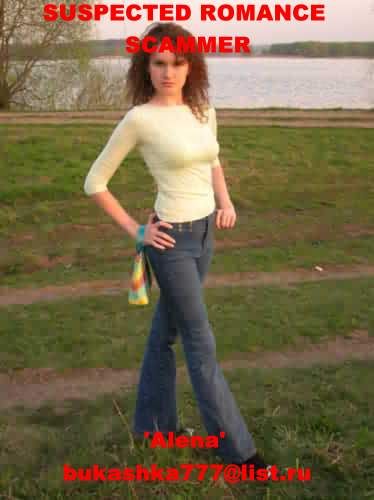 bukashka777@list.ru
Here's a 'fresh' one, who contacted me on a large internet dating site, that is crawling with scammers!
Why do I suspect she's not for 'real'?
I have ONLY been contacted by scammers on that dating site!
She claims she's in Zvenigovo, her email was sent from the Mari El Republic.
In her letter, she claims she is a 'blonde'. Yes, the picture may be old, or her hair dyed. This is not damning in itself, but is just a little 'tidbit'.
Her second letter letter includes the 'trademark' sentiment,
'Russian men no good, drink, beat women, etc.'
"My dear, I was disappointed in Russian men. Russian the man does not respect the woman.In Russian family the husband frequently offends the woman physically and morally.I wanted to find to myself the husband in Russia, but I could not find any decent person.My dear the majority of men in our country needs to be drunk alcoholic drinks and beat women,it is a lot of men to get drunk after work and when they to come home drunk they vent the rage on the wife."
In her second letter, she is talking about creating a family with me, a person who had emailed her a few hundred words, and she has NEVER seen a single picture of!
This is a typical 'scammer' attempt, and she should be 'in love' and willing to travel to meet me within 4-5 more emails. Stay tuned!
Letters at:
http://russianromancescammers.forumup.org/viewtopic.php?t=66&mforum=russianromancescammers